John Bavicchi: 2003 Lifetime Achievement Award Recipient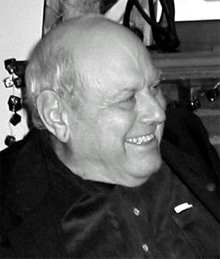 John Bavicchi, director of the Arlington-Belmont Chorale and its predecessor choruses for 44 years and founder and director of the Arlington-Belmont Chamber Chorus for 29 years, was honored on November 1, 2003, by Choral Arts New England for his significant contribution to the cultivation of community choral music. See News and Events for more about the awards ceremony.
John Bavicchi was born in Dedham, Massachusetts, in 1922. Initially trained as a civil engineer, he returned to Boston after serving in the Navy during World War II and entered the New England Conservatory, which awarded him a Bachelor of Music in 1952. Graduate study at Harvard followed, including courses in composition, music history, and choral practice, with teachers that included Walter Piston, Archibald Davidson, and Otto Gombosi.
After holding various teaching posts, Mr. Bavicchi joined the faculty of the Berklee College of Music in 1964, where he still teaches composition, conducting, and analysis as of this writing in 2003.
Mr. Bavicchi's earliest choral conducting experiences included forming a boy's chorus at the Rivers Country Day School and directing the high school chorus in Sharon. He was appointed director of the four-year-old Belmont Community Chorus in 1959, and thereafter also became conductor of the Arlington Philharmonic Chorus. He continued as director after the two organizations merged into the Arlington-Belmont Chorale in 1973, and he assumed additional duties as conductor of the Arlington-Belmont Chamber Chorus after it was formed in 1974 as an audition ensemble drawn from the membership of the large chorus. Mr. Bavicchi retired from the chorale and chamber chorus in 2003 after more than 40 years of distinguished service.
Three hallmarks of John Bavicchi's decades-long career as a choral conductor are the performance of little-known masterpieces by major composers, particularly the choral works of Robert Schumann, and the commission and performance of work by contemporary composers. Both the chorale and the chamber chorus customarily offered at least one premiere a year under Mr. Bavicchi's leadership.
John Bavicchi's gift for inspiring amateurs to perform at a high level is exceptional, and his musical taste and imaginative programming have won him a loyal following of amateur singers who welcome the opportunity to learn unusual and challenging repertory. Of particular note have been several performances, in various venues, of the 1951 Mass by Jeronimas Kacinskas, the dean of Lithuanian composers. Mr. Bavicchi's dedication to the presentation of new music is matched by an extraordinary ability to convince members of a community chorus that not only can they conquer unexpected notes and unusual time signatures, but they can also weld unfamiliar musical elements into satisfying and communicative performances. That his choristers hold John Bavicchi and his values in high esteem is evidenced by their contributions to a special fund in his honor at the Arlington Philharmonic Society to pay for the commissioning of new works.
In addition to directing his own choruses, Mr. Bavicchi has, over the years, enriched the opportunities available to his singers by arranging joint performances with other choral groups, thereby strengthening the wider community of singers.
Mr. Bavicchi is the tenth recipient of Choral Arts New England's Lifetime Achievement Award, which is given in memory of Alfred Nash Patterson and in recognition of those who carry on his work through significant contributions to choral music in New England.