Conductor Chats from Bershire Choral International
Join Music Director Frank Nemhauser for a series of newly recorded chats with BCI conductors, sponsored by Berkshire Choral International.
Next Interview: Wed. June 17, 8 pm with Tom Hall. Click here to subscribe and set a reminder.
A new interview will be broadcast "live" each Wednesday at 8 p.m. Eastern time via YouTube Premiere, followed by an invitation to join via Zoom for a live Q&A session with the guest of the week. Conductors will include Tom Hall, Kathy Saltzman Romey, Robert Istad, Katherine FitzGibbon, Gary Thor Wedow, and Colin Baldy. Following each Premiere, interviews will also be available to watch at any time on YouTube.
If you're unfamiliar with watching a YouTube premiere, don't worry! You can watch even without signing in. But, if you want to chat live, you'll need to have a Google account or create one (this video shows you how). When the premiere is about to start, log into your YouTube account - you'll need to select your Google account (or add a new one) and then sign in with your email address and password before proceeding. Using the premiere link above, be sure to click the "set a reminder" link on the video. Following the YouTube event, we'll continue the conversation with the conductor in Zoom. A link will be provided during the broadcast.
YouTube - How to Sign In to YouTube
FULL SCHEDULE
Wed, June 17, 8pm: Tom Hall
Wed, June 24, 8pm: Kathy Saltzman Romey
Sat, June 27, 3pm: Colin Baldy
Wed, July 1, 8pm: Rob Istad
Wed, July 8, 8pm: Katherine FitzGibbon
Wed, July 15, 8pm: Gary Wedow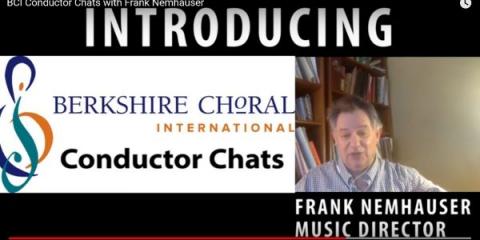 Effective date:
Wednesday, June 17, 2020

to

Wednesday, June 24, 2020